I don't recall what led me to Mujica. The flow of information in the current era is deep and wide so my awareness of him could have come from any one of a myriad of sources. I think what impacted me the most though, about "José Alberto "Pepe" Mujica Cordano" were his heroic qualities, his remarkable story, and his relative obscurity – being all but unknown outside of Latin America.
Here is a man who – in my estimation – should be celebrated as a "Latin American Mandela" – a courageous warrior for justice who languished in squalid prisons, ultimately to be released, vindicated, and elected to the highest position in his country – Uruguay. And it is here – in a position of power – that he exhibited some of his most heroic qualities as a leader. He eschewed wealth and fame – giving most of his money to the poor; he forgave those who had oppressed him, and ultimately led by example, choosing to unite his people, by building bridges that connect rather than walls which divide – qualities of leadership which seem to be in such short supply nowadays.
As it is not my intention to write a lengthy dissertation about Mujica, I'd recommend this concise bio about his life in Wikipedia if you are interested:  https://en.wikipedia.org/wiki/Jos%C3%A9_Mujica .
Although José Mujica is unaware of this, I decided to create a mask in his honour 🙂
It's March 13, 2016 and I am finally ending the creative drought which has beset me this past year. A full 14 months has elapsed since Alan Turing's mask and I finally feel inspired enough by the story of José Mujica to put form to clay. My friend "Hunter Bob" has kindly offered to keep me supplied with antlers as he is – quite likely – the most prolific hunter on Mayne Island**.
(**A brief word on hunting on Mayne Island…Mayne Island is in the unique position of having 2 kinds of deer to grace our little island. The black-tailed deer are one species – indigenous to the Pacific Northwest  – which have been grazing the forests and fields of this region for thousands of years. On Mayne Island they are a protected species and it is illegal to hunt them. The other species we have are Fallow Deer – which are not a native species – and were introduced some years ago by a woman wanting to raise them for commercial purposes on her farm. There is disagreement – and much debate – among islanders as to how the Fallow deer came to flee captivity. Whether they used wire cutters to get through the fencing or overpowered the guards is a topic of conversation which can lead to much consternation among longer-term residents. However their methods though, we have been left with a very prolific and omnivorous beast which is persistently and inexorably eating its way through the decorative flowerbeds of the other invasive species – humans – which reside here. It is not illegal to hunt Fallow Deer and indeed is encouraged by the local conservation society…..enter Hunter Bob. Bob loves his job. Due to the randy nature of the Fallow fellows, the rarely fallow nature of the Fallow females, and the percentage of the island which cannot be hunted – Bob knows that he will never be in short supply of targets…and I will consequently never be without antlers for art 🙂
Mujica's face exudes character, despite his 13 years in squalid conditions in prison he gives off the air of a congenial avuncular patriarch of his people. I worked from several images that I found online…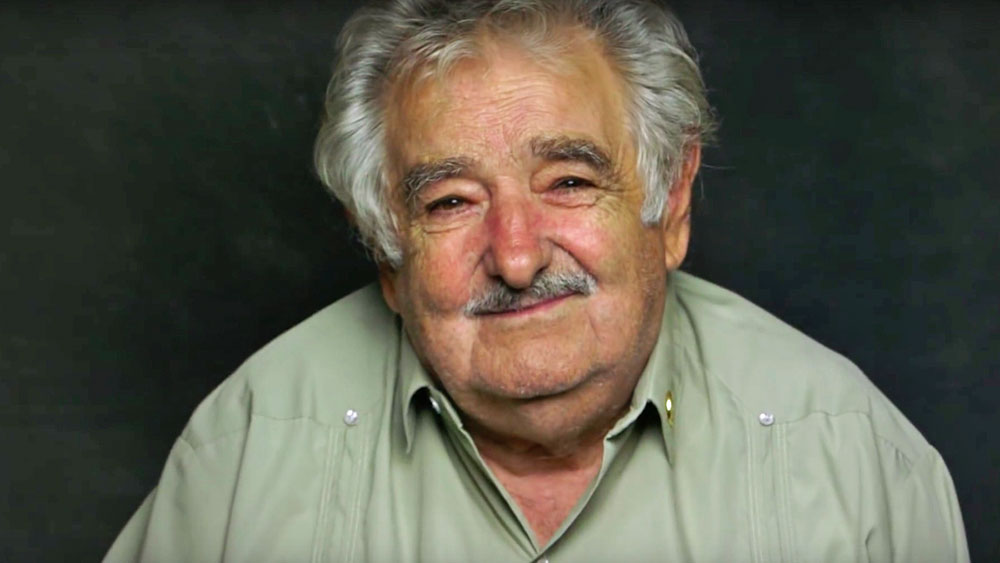 and proceeded to create a rough sketch to work from while I sculpted. (I usually have my computer screen on as well so I can refer to the subjects facial features in greater detail – the sketch is just a general guide)
I always pound and kneed my clay to get rid of any potential air bubbles which can – if left undetected – explode your sculpture while firing in the kiln. (I discovered this the hard way : https://clayandbone.com/2017/04/30/mask-making-abraham-maslows-exploding-head/ ) After this initial work I roll it out and flatten it – like a piece of pie dough – before I form it around one of several hand-created molds that I have made out of compacted paper. Then it's a matter of trimming excess clay, and slowly forming your image through the addition or removal of extra pieces of clay. Eyes, nose, brows and lips and the beginnings of the contours of the face start to take shape.
Here's a little detail of how I attach the antlers. I drill a hole through the base of the antler and feed a copper wire through which I eventually feed through holes in the skull of the mask and "tie off" inside the cavity of the mask.
Here's a picture of the mask with a few of the typical tools I use to do some of the detail work…getting near completion and ready to let Mujica cure, or dry out, for a few weeks before firing
Following drying time and successful kiln outcome, I spend some time painting the image to duplicate – as best as I can – the subjects shading & skin tone which – in this case, (unlike the black and white of Oppenheimer & Turing) is an attempt at natural colouring.
Mujica is available for purchase from my Studio/Gallery on Mayne Island, or, online via this website:
https://clayandbone.com/portfolio/jose-mujica/